Why we care about B2B marketing: A guide for marketers
Learn what B2B marketing entails, how it differs from B2C, and what best practices marketers should be aware of.
Akshat Biyani
on April 15, 2022 at 10:08 am | Reading time: 11 minutes
The B2B buyer journey is evolving rapidly as it becomes more digitized, less predictable, and more complex. The challenge for B2B marketers is to support what is now largely a self-guided journey involving numerous personas on accounts and increasingly expanding buying teams. Strategies that were once traditionally B2C are now being adopted by B2B marketers.
As companies speed up the adoption of digital processes and technologies, it is likely you will soon be interacting with increasingly tech-savvy customers. As a result, you can no longer appeal to buyers using traditional tools. Marketers need a more analytical and innovative approach to selling.
This B2B marketing guide will walk you through various marketing strategies to help you reach your target business audiences and tell you about a few of the latest trends in the industry. Key points covered include:
What is B2B marketing?
B2B marketing refers to the marketing strategies employed by firms selling their products and services to other businesses. In B2C marketing, companies sell directly to the end customers and are more transactional, with a higher volume but a generally lower price per sale.
B2B marketing often relies on educational content to communicate with business clients. This is because buyers seek expertise when dealing with other businesses, while consumers typically seek the best deals and most exciting products. So your marketing needs to be more personalized than it might otherwise be when targeting B2C customers. This difference often results in longer sales cycles for B2B marketing than for B2C marketing.
Types of B2B marketing
There are many different B2B marketing strategies. While companies tend to focus on B2B marketing channels that produce more leads, it may make sense to prioritize the ones that produce the highest ROI for your company. The following section lists a number of strategies that you can mold and adapt to suit your specific needs and target audience.
Email marketing
Email marketing has long been the mainstay of B2B ecommerce. It is a cost-effective and efficient way to reach potential clients and, as a rule of thumb, has the highest return on investment (ROI) in B2B marketing. It is this simplicity and high ROI that makes email marketing the cornerstone of any marketing operation. According to a study by Litmus, four out of five marketers find email marketing more essential to their operations than social media marketing.
Email marketing gives you direct access to buyers without relying on any intermediate party, as is the case with search and social media.
As for B2B marketing, email marketing should be used in conjunction with other useful strategies like account-based marketing (ABM). ABM involves triaging potential accounts and optimizing your marketing strategy to target the accounts that are likely to be most valuable.
Ultimately, you need to remember that the most important element is to personalize the content for your audience. The more your clients feel valued, the more likely they are to use your services and keep coming back for more. Prioritize quality over quantity.
---
Everything you need to know about email marketing deliverability that your customers want and that inboxes won't block. Get MarTech's Email Marketing Periodic Table.
---
Content marketing
Content marketing strategies have consistently been one of the most reliable tools at a B2B marketer's disposal.
If customers regularly see your firm as a source of top-quality industry content and thought-leadership, their trust in its products and services increases accordingly.
Remember that your content marketing isn't restricted to written blogs; you should also focus on publishing e-books, white papers, images, infographics, GIFs, podcasts, and videos that you can share to engage and retain your audience. Webinars are not only an important part of a B2B content strategy, but excerpts can be re-utilized on websites and landing pages.
Social media marketing
Most successful businesses today have an online presence on at least one of the top social media websites. In the B2B marketing space, LinkedIn and Facebook are the most commonly used social media platforms, according to survey data from Databox.
Typically, firms use these platforms to achieve the same goals they seek to achieve through other forms of digital marketing — high engagement and advertising. However, to be successful on social media, B2B companies need to find a middle ground between creating engaging content and ensuring they don't ruin their audience's experience on the platform. To do this, marketers should identify the kind of content their target audience wants to see on social media platforms.
While developing and posting social media content, firms need to consider what their buyers' collectives are after. Buyers' collectives are groups of important stakeholders whose approval is mandatory if the company is to make any business purchases. They are an important audience that should not be overlooked while planning your social media marketing strategy.
Your social media content should also project values that align with the concerns of the buyers' collectives of your target firms. Create content that is relevant to their needs and speaks the language of their industries.
You should also track your competitor's social media marketing strategies and measure their success. However, while keeping tabs on your competitors is crucial, it doesn't mean a parting of ways with original content. In order to catch buyers' attention, your social media content needs to offer them something they haven't seen before.
---
New features are making marketing automation platforms more powerful than ever. Learn about trends and capabilities of marketing automation software in the latest edition of this MarTech Intelligence Report.
---
Frequently asked questions about B2B marketing
B2B marketing is a straightforward concept, but marketers still may have some reservations about the process. Here are some of the most popular questions marketers have about B2B marketing.
What are the key differences between B2B and B2C marketing?
One of the main differences between these two forms of marketing is the target audience. B2C marketers seek buy-in from individual consumers while B2B marketers engage with decision-making teams' brands.

Another difference is that B2B marketing tends to focus more on providing educational resources to customers to help them become better leaders in their respective industries.
What are the benefits of B2B marketing?
B2B marketing programs meet executive-level buyer needs via highly targeted promotions. These tactics can help marketers increase customer lifetime value and overall brand loyalty by speaking more effectively to their needs. This helps brands craft better customer experiences and reduce churn.

Brands who practice B2B marketing also get to engage with a growing market — one that's expected to hit $18.57 trillion by 2026.
What are the types of B2B marketing platforms and software available?
Most B2B marketing platforms use automation technology to help professionals better scale their efforts. These platforms offer features such as AI-based predictive lead scoring, product recommendations, and ABM and social media campaign integration. Some of the biggest names in this sphere include Marketo, HubSpot and Salesforce Pardot.

What are the top brands in the B2B marketing space?
Many of the top B2B brands have been around for decades, helping pave the way for others in the space. However, several newer companies have become big players as well. Today, the B2B space is led by brands such as Adobe (which owns Marketo), HubSpot, Oracle and Salesforce, with many other leaders in the mix as well.

Top platforms specializing in ABM capabilities include Demandbase, MRP, 6Sense, Terminus and Triblio.
The future of B2B digital marketing
The growing number of brands in B2B suggests a bright future for marketers in the space. Yet, as we've seen over the past few years, a combination of societal factors has transformed the ways B2B marketing engages with customers.
Online events and interactions
The COVID-19 pandemic has permanently altered the format of events and interactions in the B2B marketing sphere. An increasing number of marketing events are now virtual or hybrid. And, 72% of marketing professionals expect to attend the same number or more once in-person events return, according to a survey conducted by Vimeo.
As buyers become more willing to access digital spaces, marketers must make the most of their potential. This includes expanding digital marketing strategies to the metaverse, which could be a great way to connect with millennial and Gen Z buyers as over half of both groups are interested in using the technology, according to a survey from Morning Consult.
For B2B marketers, the metaverse represents a unique opportunity to interact with a large audience at an unprecedented scale. It enables B2B vendors to provide remote assistance to their clients, create immersive training programs, and get involved in the production process right from the manufacturing stage.
The metaverse's virtual reality capabilities also allow B2B marketers to give customers a 360-degree view of their product.
Leveraging AI in marketing
Artificial intelligence has the potential to be used in several stages of the marketing process, making it an invaluable asset for marketers in many ways.
Integrating customer data. Most brands interact with their clients both digitally and physically. AI can bridge the gap between these two modes of interaction and help you get a bird's eye view of all customer preferences.
You can use AI-powered nurture campaigns to send personalized emails to individuals who may have visited the company's website. AI can also be used to keep track of intent data, which enables marketers to understand a customer's actions. This is preferred over clicks and download statistics since it gives you a better idea of whether the customer is willing to buy.
More efficient programmatic advertising. AI can also aid B2B marketers in segmenting channels to identify the most effective way to engage with potential buyers. Artificial intelligence completely revamps media buying and programmatic advertising through this process. This is essential for personalizing your advertisements.
Account-based marketing
Account-based marketing allows marketers to focus their efforts on best-fit accounts to boost conversion rates. In today's highly competitive environments, marketers must make the most of the data they have at their disposal. ABM ensures that companies focus on the accounts with the highest potential ROI. This allows sales teams to prioritize boosting relationships with bigger accounts.
While account-based marketing is not a new concept, the abundance of information now available to prospective clients makes this easier to undertake at scale. In fact, the proper implementation of ABM can mean higher attributed revenues and lead to more conversions, improving marketing ROI.
Successful ABM requires a strong alignment between sales and marketing on which accounts to target and the ability to provide clients with a personalized experience.
The pandemic has re-emphasized that change is the only constant. B2B marketers must keep up with the latest trends in the industry to differentiate themselves and stay well ahead of the curve.
---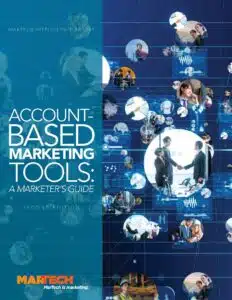 More B2B marketers are adopting account-based marketing than ever before. Find out why and explore the ABM platforms making it possible in the latest edition of this MarTech Intelligence Report.
---
Resources for learning more about B2B marketing
The B2B sector represents a compelling yet constantly shifting market for marketers. The proliferation of digital channels increasingly puts pressure on marketers to generate engaging content that can drive leads.
Here are some B2B marketing resources to help you choose the best solution for your brand:
Account-based marketing: A snapshot
What it is. Account-based marketing, or ABM, is a B2B marketing strategy that aligns sales and marketing efforts to focus on high-value accounts.
This customer acquisition strategy focuses on delivering promotions — advertising, direct mail, content syndication, etc. — to targeted accounts. Individuals who may be involved in the purchase decision are targeted in a variety of ways, in order to soften the earth for the sales organization.
Why it's hot. Account-based marketing addresses changes in B2B buyer behavior. Buyers now do extensive online research before contacting sales, a trend that has accelerated during the COVID-19 pandemic. One of marketing's tasks in an ABM strategy is to make certain its company's message is reaching potential customers while they are doing their research.
Why we care. Account engagement, win rate, average deal size, and ROI increase after implementing account-based marketing, according to a recent Forrester/SiriusDecisions survey. While B2B marketers benefit from that win rate, ABM vendors are also reaping the benefits as B2B marketers invest in these technologies and apply them to their channels.
Dig deeper: What is ABM and why are B2B marketers so bullish on it?
---
Opinions expressed in this article are those of the guest author and not necessarily MarTech. Staff authors are listed here.
---